Prolific poet and rapper, G-Clan thrills in his new single titled "Na God". The dynamic artiste who has to his credit, singles like Ovie, Hot, Win etc. is the CEO of Blacka Family and a member of the prominent Gospel Rap group; BLW RapNation, featured here months back.
G-Clan has mastered his art and effortlessly publishes the message of Christ with his unique brand of music. I met the inspirational rapper last year when he accompanied Casey Ed to my Church to minister. His brilliant rap interlude on Casey's song "Nigeria Land of God" caught my attention and I have followed his works thereafter.
In the song; "Na God", G-Clan was at his lyrical best as he paid tribute to God for being his anchor and inspiring him to overcome the world.
"Na God" was produced by a rising producer and artist of Peaceville named EgarBOI (@Egar_Boi) and was mixed and mastered by a prominent rapper/medical doctor and the CEO of 17-17 Audio Lab; Dr.Sankty (@drsankty)
Click on the link below to download and enjoy "Na God":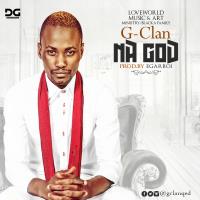 Connect with G-Clan:
Twitter: @gclanqed
Instagram: @gclanqed
Facebook: www.facebook.com/gclanqed