The Right Way To Worship – Pastor Chris
Wednesday, March 8, 2017
But the hour cometh, and now is, when the true worshippers shall worship the Father in spirit and in truth: for the Father seeketh such to worship him. God is a Spirit: and they that worship him must worship him in spirit and in truth (John 4:23-24).
Click here to download your free copy of Rhapsody of Realities.
There's the right way to worship God. You can't worship Him the way you choose and expect that He'll accept it. For example, Genesis 4 tells us how two men—Cain and Abel—the sons of Adam and Eve offered sacrifices to God. Cain brought an offering to God from the produce of his farm; he offered to God what he thought was okay, instead of what God had asked for.
Abel, on the other hand, offered what God demanded and his sacrifice was accepted. You don't give to God what you think you have; you give Him what He demands of you. It's the same with worship. It's important that you walk in the light of God's Word, doing exactly what He wants. Just because something seems nice doesn't mean it's acceptable to God. You might have heard some people say, "Well, anybody can worship any way he chooses; I can decide to keep quiet and worship God in my mind"; that's wrong. Yes, God knows what's on your mind, yet Jesus said, "When you pray, say…" (Luke 11:2). He didn't say, "…When you pray, be quiet, for God knows what's on your mind."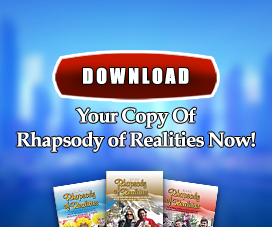 Click on the picture above to download your free copy of Rhapsody of Realities.
In the Old Testament, when the prophets or priests prayed, the contents of their prayers were written for us, showing that they verbalised it. Most times, God instructed the Priests on what to say. In fact, when Jesus prayed, He spoke out, such that others heard Him. He didn't merely think in His mind. It's the same with worship; there's a prescribed order for it. We worship God through the Spirit, and by the Word—in spirit and in truth! We lift our hands to Him, making confessions to His Name: "By him therefore let us offer the sacrifice of praise to God continually, that is, the fruit of our lips giving thanks to his name" (Hebrews 13:15). We eulogise and pour encomiums on Him for His greatness, kindness, love, mercies and grace. Hallelujah!
Prayer
Dear Father, you're worthy to receive glory, honour, and power, for you're the greatest, and by you all things consist. You alone are God, worthy to be praised and adored! All honour, majesty, and dominion are yours, now and forever, in Jesus' Name. Amen.
further study: Psalm 29:2; hebrews 13:15; Philippians 3:3
1-YEAR BIBLE READING PLAN Mark 13 Numbers 22-23
2-YEAR BIBLE READING PLAN Matthew 21:12-17 exodus 17
Leave comments on today's devotional at www.rhapsodyofrealities.org