You're A Life-giving spirit – Pastor Chris
Monday, March 27, 2017
But he that is joined unto the Lord is one spirit (1 Corinthians 6:17).
Click here to download your free copy of Rhapsody of Realities.
The Bible says, "And so it is written, The first man Adam was made a living soul; the last Adam was made a quickening spirit…The first man is of the earth, earthy; the second man is the Lord from heaven" (1 Corinthians 15:45, 47). This is so powerful! The Lord Jesus Christ is the second and last Adam; He's the Lord from heaven, and the Bible describes Him as a quickening or life-giving Spirit. No wonder, everything He touched received life. The next verse says, "As is the earthy, such are they also that are earthy: and as is the heavenly, such are they also that are heavenly" (1 Corinthians 15:48). We hail from Christ; this means we also are life-giving spirits!
This was what the Lord Jesus was referring to in John 7:38, when He said, "He that believeth on me, as the scripture hath said, out of his belly shall flow rivers of living water." The Greek terminology signifies gushers or torrents of living water. Life is flowing out of you. How does it flow? The Scripture shows that it flows, first from your mouth, and then from your hands. Anyone who makes contact with you in faith or by faith can literally pull it out of you.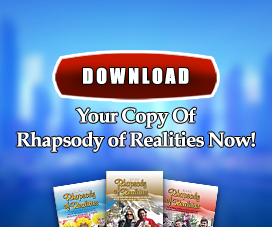 Click on the picture above to download your free copy of Rhapsody of Realities.
When Adam sinned against God, the law of death was set in operation. The Bible says through sin, death came into the world as a consequence of Adam's transgression. Life has however come by the second and last Adam, Jesus Christ. He said: "…I came that they may have and enjoy life, and have it in abundance (to the full, till it overflows)" (John 10:10 AMP). Now, not only do you have life to the full, you've become a dispenser of life.
There's no more hopelessness where it concerns you. You can bring life into anything, no matter how dead. The Bible says in Romans 4:17, "…even God, who quickeneth the dead, and calleth those things which be not as though they were." This shows what you can do, because you're made in His image and in His likeness. As He is, so are you in this world (1 John 4:17).
Confession
I live in the Spirit; I also walk in the Spirit, because I'm born of the Spirit. I'm heavenly; therefore, I live by the law of the Spirit of life in Christ Jesus. I'm also a life-giving spirit, ministering the divine life to my world. Hallelujah!
further study: 1 Corinthians 15:49 AMP; 1 John 5:11-12
1-YEAR BIBLE READING PLAN Luke 7:1-35 deuteronomy 33-34
2-YEAR BIBLE READING PLAN Matthew 26:14-25 exodus 36
Leave comments on today's devotional at www.rhapsodyofrealities.org