We're His Partners In Winning Others – Pastor Chris
Thursday, April 13, 2017
I say unto you, that likewise joy shall be in heaven over one sinner that repenteth, more than over ninety and nine just persons, which need no repentance (Luke 15:7).
Click here to download your free copy of Rhapsody of Realities.
In life, many people give attention to things that aren't so important. They strive to be famous and gain human recognition, but these aren't what God wants. When you eventually stand before the Master, He won't ask for the accolades you received from men or the wealth you amassed while on earth. Rather, He'll be interested in what you did with the Gospel in saving souls. It's clear from our opening verse what God is after; He wants you to love Him and live for Him as His partner in soul-winning.
Daniel 12:3 says, "And they that be wise shall shine as the brightness of the firmament; and they that turn many to righteousness as the stars for ever and ever." Living for the Lord and partnering with Him to win the lost is the highest calling and greatest honour! You'll only experience maximum fulfilment and joy if your passion, emotions, desires, and appetites are founded on Christ, and your pursuit is the establishment of His righteousness in the hearts of men.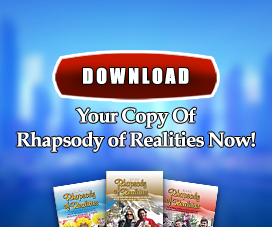 Click on the picture above to download your free copy of Rhapsody of Realities.
Every soul on earth is valuable to God. He ransomed all men with the precious blood of His Son, Jesus. That's why when one sinner repents, there's joy in heaven. We therefore have the responsibility of taking His Gospel to the ends of the earth; the salvation of souls should be our passion.
Plan a personal soul-winning outreach during this Easter period. The death, burial, and resurrection of Jesus has reconciled even the worst sinner to God. It has made it possible for men to become sons of God. But many in the world still don't know this; it's our job to proclaim this truth to them. So, make soul-winning your top priority in everything. Proverbs 11:30 says, "The fruit of the righteous is a tree of life; and he that winneth souls is wise." We're the wise ones, sent by God to shine the light of the Gospel and bring men out of darkness, into the glorious liberty of the sons of God. We're His partners in soul-winning. Hallelujah!
PRAYER
Dear Father, I thank you for the honour of making me your partner in winning others. I understand my purpose on earth: to be your light, a minister of reconciliation, pointing men in the direction of your grace to receive salvation. You've made me the dispenser of your glory and righteousness. Thank you for this high calling, in Jesus' Name. Amen.
FURTHER STUDY: Mark 16:15 2 Corinthians 3:6 2 Corinthians 5:18-20
1 YEAR BIBLE READING PLAN: Luke 13:22-35 Judges 14-16
2 YEAR BIBLE READING PLAN: Mark 1:40-45 Leviticus 13
Leave comments on today's devotional www.rhapsodyofrealities.org