It Matters What You See – Pastor Chris
Tuesday, April 18, 2017
Behold, what manner of love the Father hath bestowed upon us, that we should be called the sons of God: therefore the world knoweth us not, because it knew him not (1 John 3:1).
Click here to download your free copy of Rhapsody of Realities.
Our opening scripture begins with the word "Behold," which means, "See!" The same word is used in 2 Corinthians 5:17; it says, "Therefore if any man be in Christ, he is a new creature: old things are passed away; behold, all things are become new." Now that you're in Christ, you ought to "see" that all things are now new. If that isn't what you're seeing, it means you're looking at the wrong thing. You're not supposed to see the old, weak, sickly, poor and struggling "you"; that person doesn't exist anymore. You must see yourself differently now.
The word "see" is akin to the Hebrew word "chazah" in the Old Testament. It means to see from a spiritual standpoint, to see with the eyes of the Spirit. He wants you to "see" that you're righteous, prosperous, and sound. See that God has lavished His love on you, and has accepted you. See that He has conquered the world for you, and given you peace. He said in John 14:27, "Peace I leave with you, my peace I give unto you: not as the world giveth, give I unto you. Let not your heart be troubled, neither let it be afraid."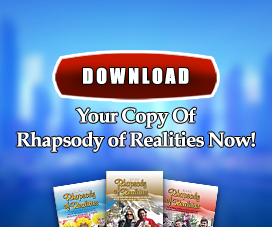 Click on the picture above to download your free copy of Rhapsody of Realities.
It is for the same reason that, in Philippians 4:6-7, the Apostle Paul, by the Spirit, writes, "Be careful for nothing; but in everything by prayer and supplication with thanksgiving let your requests be made known unto God. And the peace of God, which passeth all understanding, shall keep your hearts and minds through Christ Jesus." He's already made your life glorious; see and walk in the light of who you are in Him, and  all that He's given you and done for you.
The Word of God is the True Light; under that light, see that you're God's best; the effulgence of His glory, and expression of His righteousness. See that He's with you, and in you everywhere you go; to love, lead and guide you triumphantly through life.
CONFESSION
The glory of God is on my life. He has made me bold, courageous and sound. He's my righteousness; He's made me excellent in all things! I'm triumphant always through the Word and by the Holy Spirit. I rejoice, for in Christ I see my salvation, wholeness, preservation, promotion and victories. Blessed be God!
FURTHER STUDY: Genesis 15:5-6 2 Corinthians 4:17-18
1 YEAR BIBLE READING PLAN: Luke 17:1-19 1 Samuel 3-7
2 YEAR BIBLE READING PLAN: Mark 3:8-19 Leviticus 18
Leave comments on today's devotional www.rhapsodyofrealities.org